Scotland's Chef of the Year
By Christian Rose-Day (01 Jun 11)
Tags: Michelin Starred Chef, Paul Kitching, wins Chef of the Year Award at the Catering in Scotland Excellence Awards for his Edinburgh restaurant, 21212.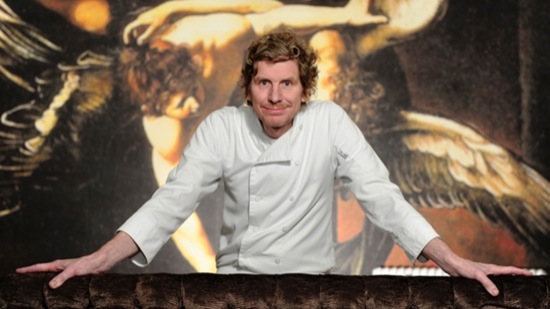 Edinburgh's
21212
restaurant have been awarded once again for its outstanding cuisine at the CIS Awards 2011, which took place last week, Hilton Glasgow.
Michelin Starred Chef, Paul Kitching has been awarded 'Chef of the Year' for his amazing efforts at the Catering in Scotland Excellence Awards - contested by leading talent in Scotland's catering, hospitality and tourism industries.
Paul Kitching has excelled himself since opening
21212
in May 2009, and has been awarded with acclamation from diners and reviewers across the globe, as well as a coveted Michelin Star to add to his growing collection.
Paul commented on their most recent success, 'Being awarded 'Chef of the Year' is a real honour, especially being up against such amazing talent. I believe we offer diners a unique experience here at
21212
. The flavours and range of ingredients we use in the restaurant enhances the whole dining experience for our guests and that is what it is all about for me. We will continue to strive to succeed and hopefully have another very successful year.'
The menu at
21212
is a modern French style of cookery.  Paul's dishes are a composition of flavours that enhance the whole dining experience.  His dishes are intricate, feminine and vibrant in colour and they are delicately assembled with a build up of flavours that are memorably exciting.  
The menu consists of combinations of dishes with a wonderful selection of ingredients, prepared by Paul and his team of eight chefs. The five course gourmet menu consists of a choice of two dishes on the starter, main course and dessert courses, which is why the restaurant is named
21212
.  The lunch menu offers diners the flexibility to choose from a 2, 3, 4 or 5 course menu. 
For Paul it's always been about the whole dining experience, from the décor to the added extras - his unique style and detail which he wants to shine through.
Recent
Fluid News Articles